Cheap and delicious street foods abound in Luang Prabang, a charming little tourist town in north central Laos. The town itself is a UNESCO Heritage Site, having earned that reputation through its remarkably well-preserved temples and monasteries, in addition to its quaint streets lined with buildings possessing an assuredly French colonial flair. It is possible to walk around the entire town in less than an hour or if you prefer, cycle or roar around the entire town on a motorbike. It's that small.
During that picturesque journey, you will inevitably get hungry. The myriad sweet, smoky, and pungent scents will keep your eyes darting from restaurant to restaurant, eager to snap up a delicious bowl of I'm-not-sure-what's-in-here-but-damn-it-smells-fantastic noodle soup. Or perhaps you will sit down in a fancier establishment to see what kind of Laos-inspired western food staples you can chow down on. I had done both of these things, and both were thoroughly enjoyable. But the cheapest and, dare I say it, best food I had in Luang Prabang was found at the little carts or tables parked on the sides of the roads, cooked and served by friendly older ladies. A bit of homestyle comfort food to make my stay in Luang Prabang all the more relaxing.
I have compiled a short list of some of the cheap, delicious street foods you can get on the streets of Luang Prabang. You'll notice that a good deal of these are western foods, the reason being I live in China. It's hard to get decent western food in China unless you want your wallet to be empty for the next week. All of the tasty morsels I'm about to introduce all cost less than $1.20 USD, and you can find them by merely wandering around Luang Prabang.
The Best Fried Chicken I've Ever Had
Happenstance or fate brought me to a small fried chicken stand on a lonely stretch of road overlooking the Mekong river. A friendly "sabaidee" (hello) greeted us as we stared in awe and hunger at the big pieces of golden-fried chicken perched on a wire cooler.
It was only 5000 kip for one piece and 6000 for a slightly bigger piece (about 60-70 cents USD, 85-95 cents CAD) so getting more than one piece was required. The first bite was absolute fried chicken paradise, and I'm not at all exaggerating. The batter literally crunched between my teeth, and evoked the flavour of crispy roasted pork belly skin. Despite the thickness of the batter, it contained very little grease, and the meat inside was hot and tender. It was so good, I was surprised we were the only customers outside this lady's little stand. This excellent fried chicken is somewhat hidden, but the search is well worth it.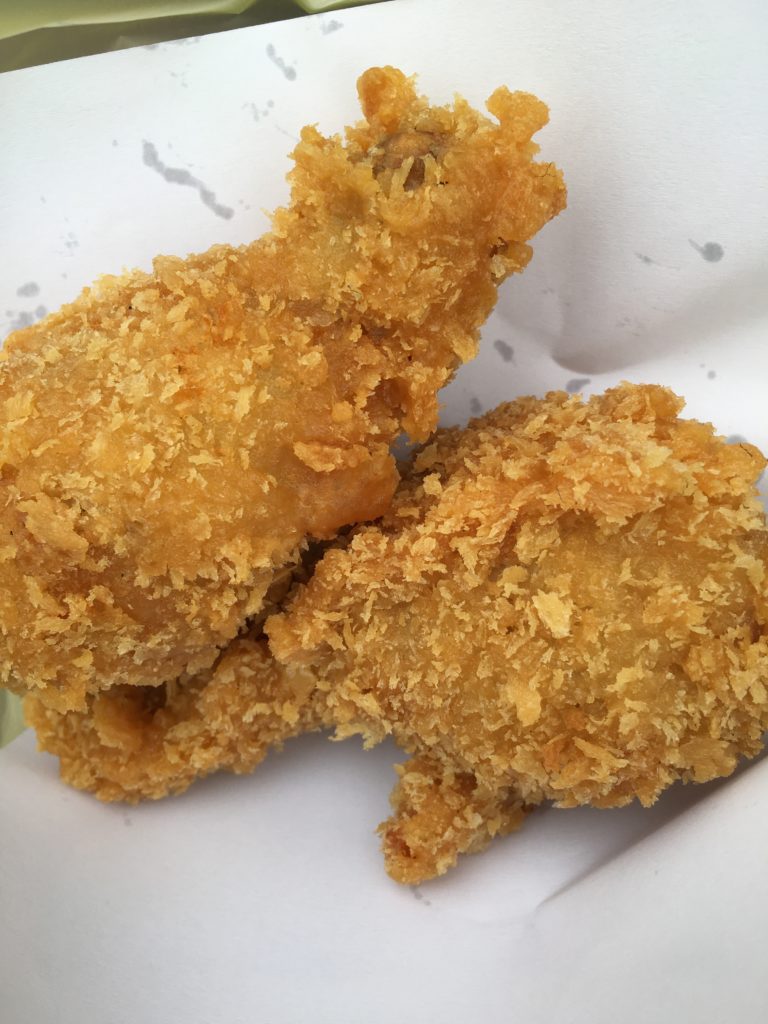 Donuts Galore
Luang Prabang has no shortage of western-style baked goods. The smell of bread and sugar weaves harmoniously through the streets of French-inspired architecture, begging you to resist the sweet temptation. Simple wooden tables are piled with baked breads of all colours and flavours, but I could not keep my eyes off one thing: the donuts. Filled to the bursting point with jelly and custard, a good, cheap donut is hard to come by in this part of the world. I paid my 5000 kip for one (60-70 cents USD) and immediately bit into it, custard side first. The donut was soft and pillowy, and the vanilla custard was surprisingly decadent for the price. I MAY have gone back just a few more times, and I MAY have been given free samples for being a loyal customer.
Coconut Pancakes
Laos, as a tropical country, has an abundance of coconuts and unique coconut-inspired dishes. One of the most popular and ubiquitous is mini coconut pancakes. The subtle scent of coconut and the gentle crackling sound of lightly frying pancakes pervades nearly every street of Luang Prabang, and for only 5000 kip you can get a small batch of 7 or 8 of these rich, lovely little snacks. The outside is brown and crispy while the inside is molten and gooey. Amazing little treats.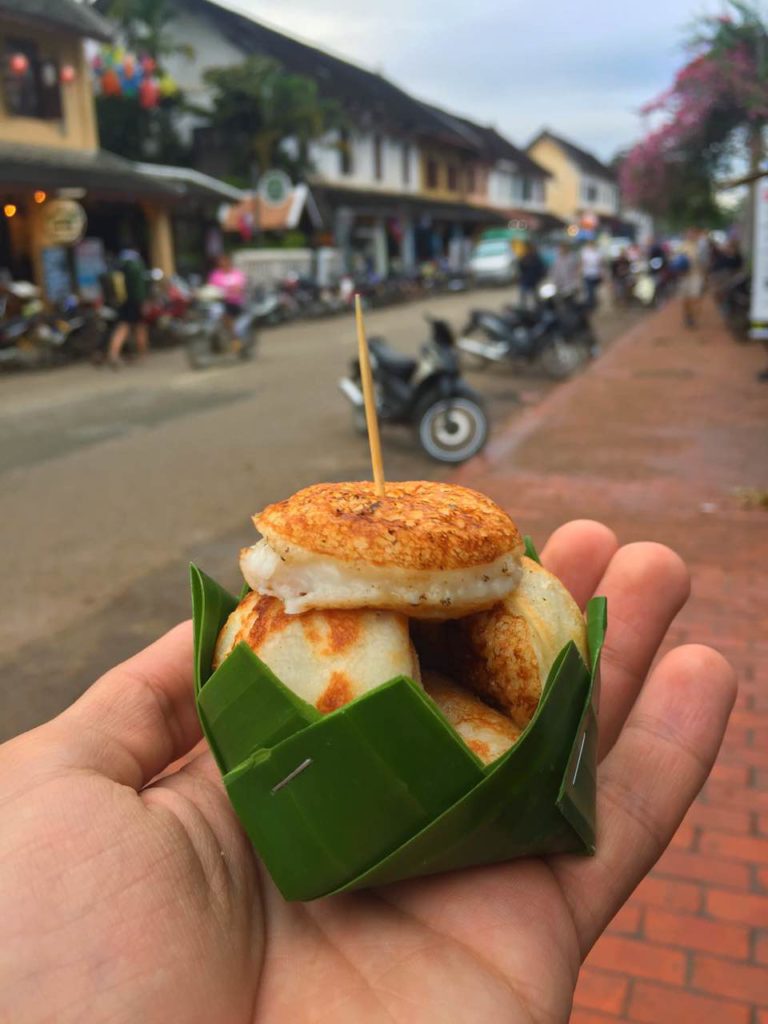 Spicy and Fatty Sausages
Down a side street or a covered alley, big fans blow the herby smoke of roasting Laos-style sausages straight into your nostrils. Laos-style sausages are a similar shape to European sausages, but possess a more fresh herbs and hot peppers kind of flavour. For about 10000 kip ($1.20 USD) per sausage, you can sample a decent variety of meats for really cheap. Sausage-mongers will grill up your choice of meat and either hand it to you on a stick or cut it up and serve it with a side of rice, which helps reduce the spiciness of the beef and pork sausages. They are extremely flavourful, bursting with herbs and chili peppers, and go great with a BeerLao. Also recommended is the fatty red sausage, which is similar to a southern Chinese 'lap chong' (腊肠), only thicker and a little greasier (which probably means it tastes better).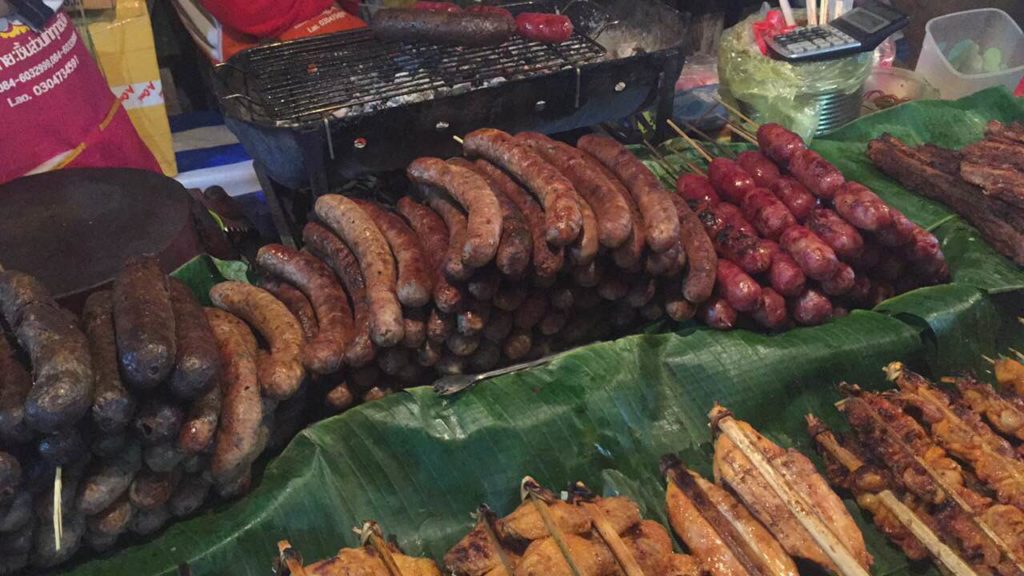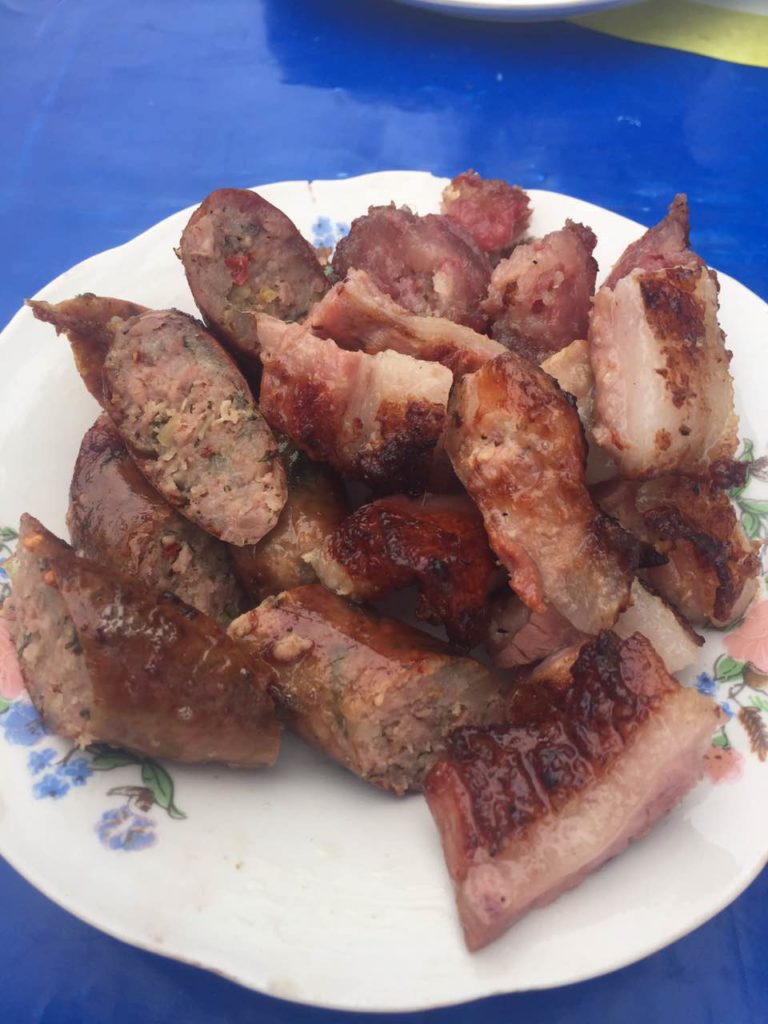 BeerLao
Not a day goes by where I don't reminisce of my time spent at the bars in Luang Prabang, watching the glint of the golden sun through a bottle of BeerLao as it sets softly beyond the horizon. BeerLao is the staple beer of Laos, but unlike other staple beers in most Asian countries (except Japan), this one was miles above my expectations. A bottle will cost you around 10000 kip (roughly $1.20 USD) and goes great with any spicy or savoury dish, or with a beautiful sunset at one of the many tranquil bars in Luang Prabang. My personal favourite was the BeerLao Dark, a richer beer best enjoyed by itself.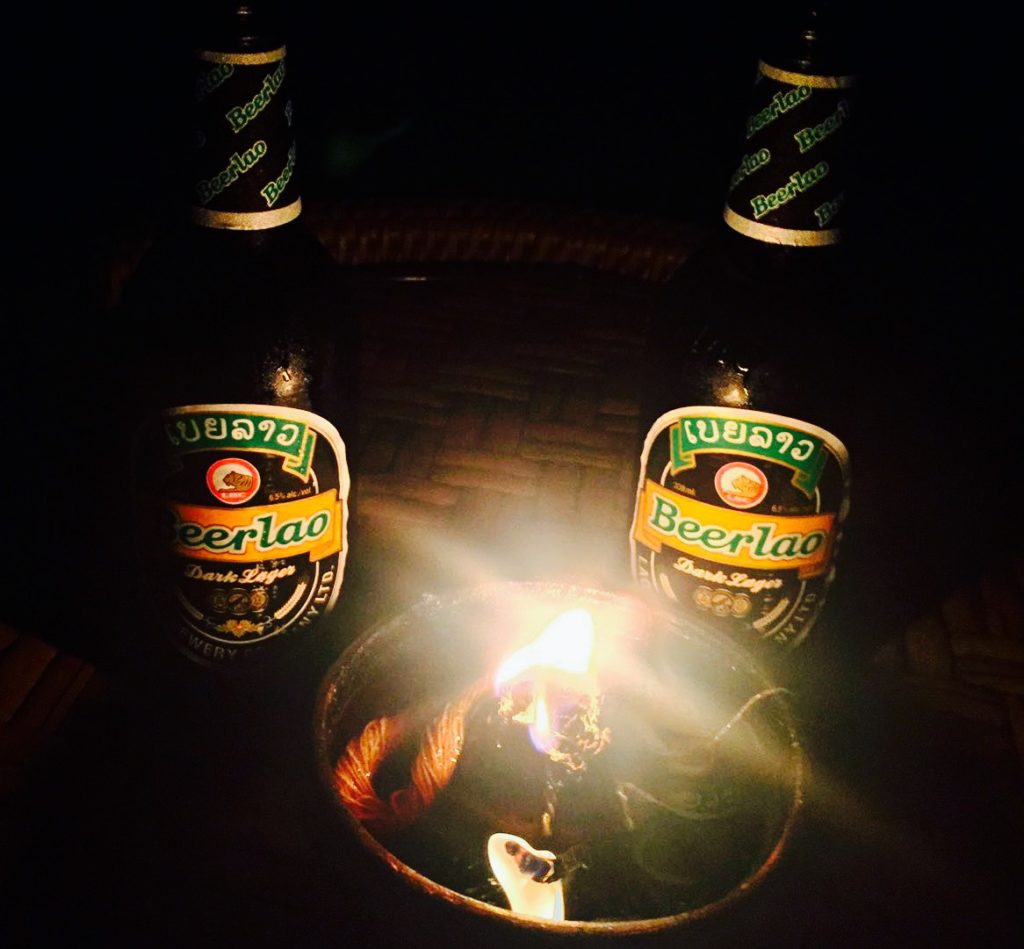 Till next time: happy saving and happier eating!