I'm back!
I genuinely wish I had a cool story to explain away my absence, but the truth is it was mainly due to a combination of hardcore procrastination, laziness, working more, and scheduled hangouts with some of my favourite people. I will try, from now on, to be as consistent as a Tokyo subway train in the morning commute.
Maybe. In life, there are no guarantees.
Except this one: if you ever perchance find yourself in Luang Prabang, Laos, you will undoubtedly be going to see the most famous waterfalls outside the city: Kuang Si Falls. So synonymous with Luang Prabang are these falls that locals will simply call them "the waterfalls" and everyone will know exactly what is being talked about.
Walk up and down the old streets of Luang Prabang and you will hear drivers entice you with the echoes of one burning question: "waterfalls?" And the answer to that question should always be: "how much?" Because, as with most famous tourist sights, there are bad, good, and better times to go see them. If you are willing to pay slightly more than what most tourist agencies in the city offer, you will likely get to spend more time exploring the place without the typical big crowds.
Beat the crowds
There are a bunch of tourist agencies in town, and nearly all of them have group packages to Kuang Si Falls. The packages can range from about 45,000 kip to 70,000 per person ($5.50 to $8.50 US, which is fairly inexpensive) depending on the number of people who sign up, but the main issue is the vans all leave at around the same time: 1pm or 1:30pm. Imagine when you finally get to the falls, hot and sweaty after being in a van with six other people for 40 minutes, only to have 22 other vans show up at the same time, full of tourists who are also all going to see the same thing. Exploring such a lush, beautiful natural wonder takes time, and you don't want to have to put up with the crowds who will ruin your chances of taking an unobstructed photo. My suggestion: go earlier in the day (10 or 11am) and take an independent driver.
Negotiating a price
Independent van drivers can be found in any area with a high concentration of tourists, namely in front of major restaurant streets or temples. My favourite spot to start a journey to Kuang Si Falls is right in front of Joma Bakery Cafe, where I can head inside, satisfy my hunger with an incredible cinnamon roll (19,000 kip or $2.30 US) or breakfast burrito (31,000 kip or $3.77 US), and come out around 10am ready to negotiate prices with a driver.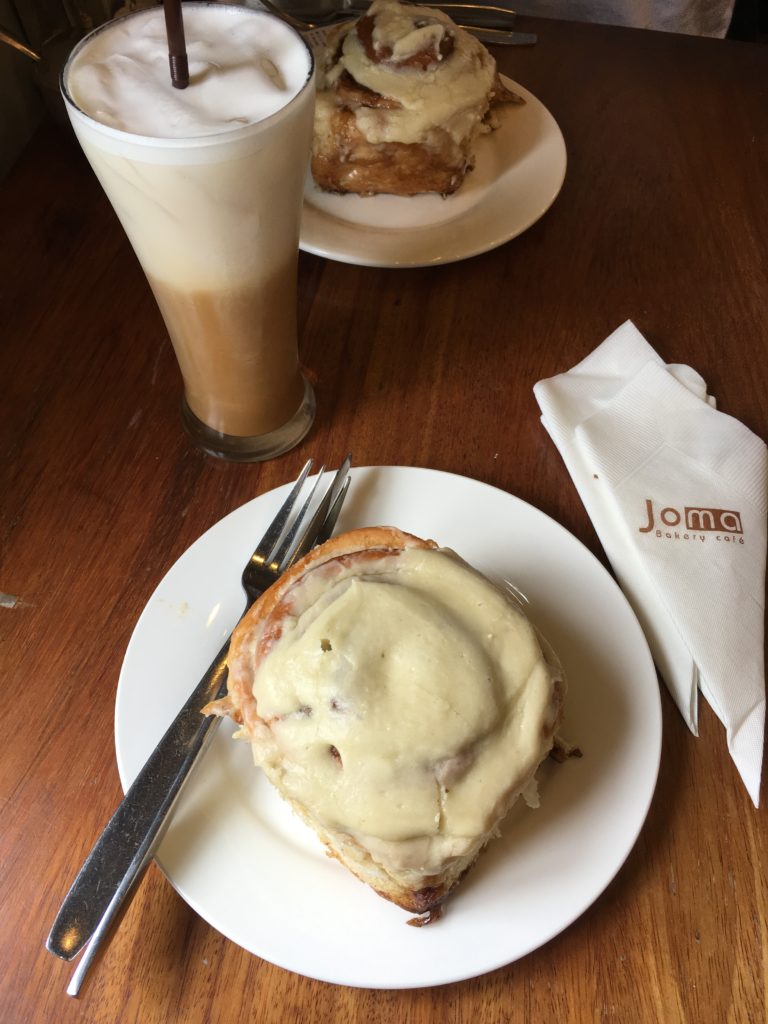 Many drivers will be hanging out on the streets, and simply passing them will invite an offering to drive you to the falls, for a price. The driver my friend and I talked to was offering 120,000 kip ($14.60 US) per person, which is well above the tour package prices. We turned him down and he went to 100,000 ($12.20 US) per person. Better, but not ideal. At this point we started walking away which inevitably led him to come back with his final offer: 90,000 per person (about $11 US). It was a decent offer for a private ride at that time of day, and after some deliberation my friend and I accepted. Looking back, we probably could have talked him down to 80,000 kip, but by then we were simply excited to go see some waterfalls!
Exploring the falls, without those pesky crowds
After a 40 minute truck ride we arrived at the falls at around 11:30. As you walk towards the entrance of the falls you will see a small bear sanctuary with lots of bears rolling, strolling, and dozing around their wooden bear playgrounds. You can also explore the bear sanctuary as well, and have your eyes melt from extreme cuteness.
The entrance fee to Kuang Si Falls is 20,000 kip ($2.50 US), and you can stay until the gates close. Strutting in with a childlike guile, our lips curled into a sly smile as we noticed some small groups of tourists snapping photos, hopping over stones, and dipping their toes in the pools, but there was still plenty of space for us to run around and do what we wanted. Not quite empty, not quite crowded. It was nearly the perfect time to go. There are over a dozen small pools that stretch downhill in front of the mouth of the falls, and exploring all of them was well worth the time. There are even pools where you can take a quick dip if that strikes your fancy. A bridge right in front of the falls provides a great platform on which to snap a selfie with a spectacular background.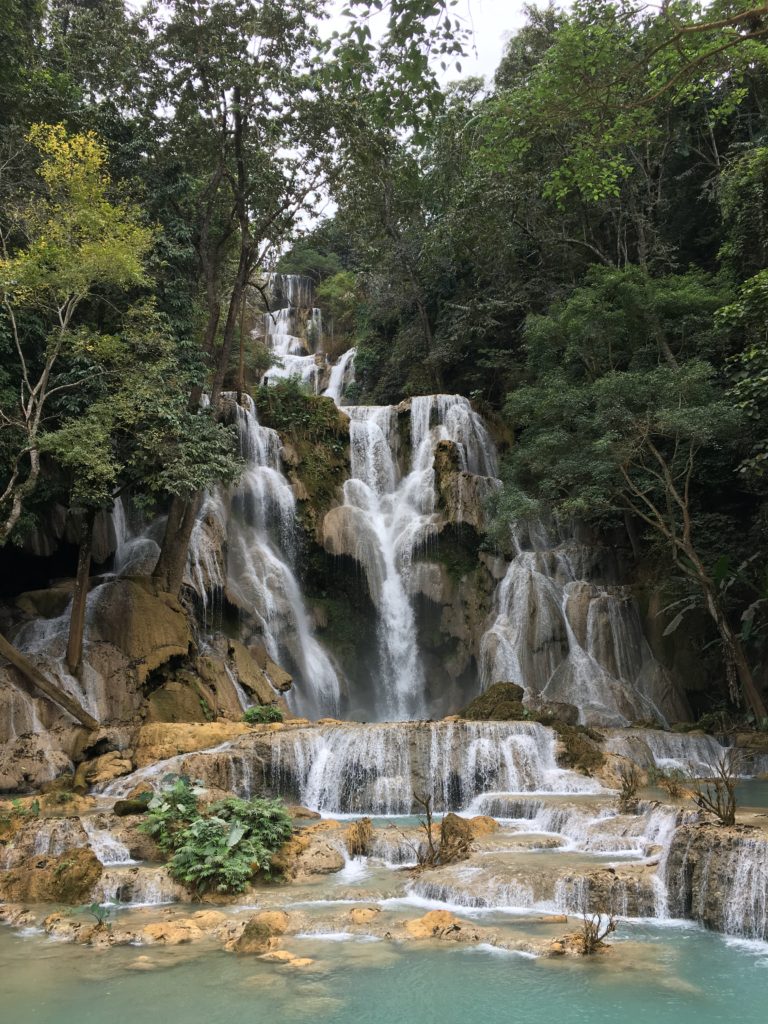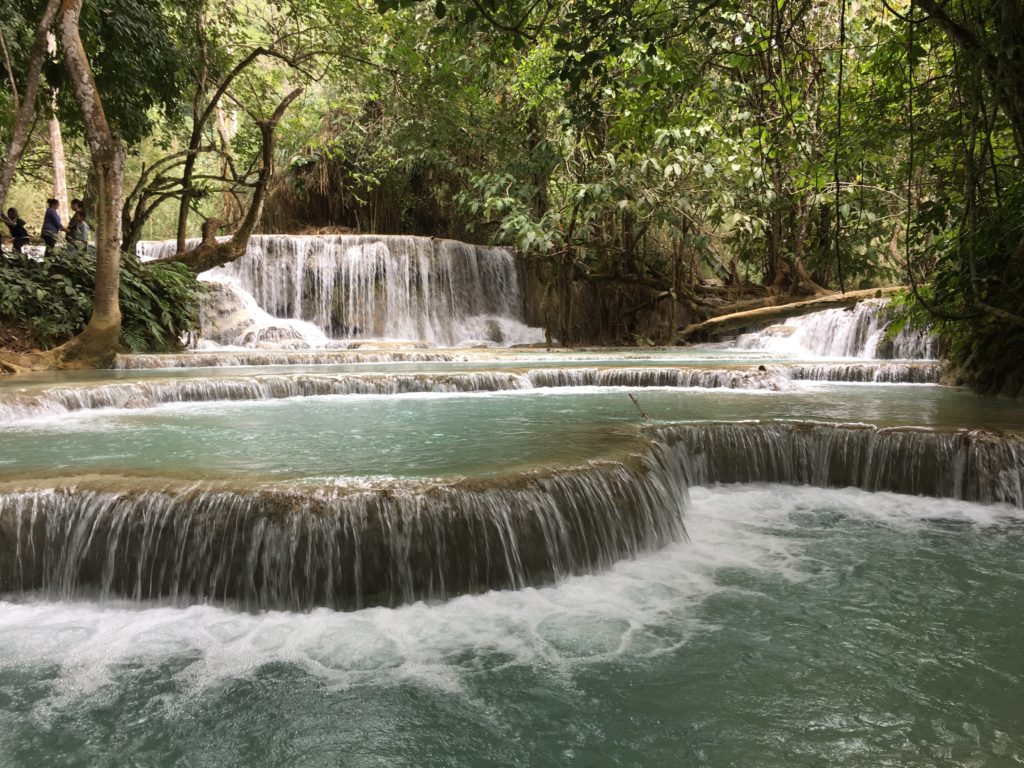 Additionally, beyond the bridge there are a few trails: one that leads away from the falls to what looks like a spa or mini-resort still under construction, and another that takes you all the way up and behind the falls. Though they only take about 10 minutes to climb, both trails are quite steep, so use proper judgment when you ascend. The top of the falls is home to a pond with a rope swing for brave landlubbers to risk wetting their dry bodies, and a mini-pool with a platform which you can perch on to take yet another cool photo, this time of the Laotian landscape above the falls. Perhaps due to its landlocked position, Laos is probably one of the greenest and most untouched southeast Asian countries I've visited. I used the last of my taken breath to squeak out a quiet "wow", as I took just one photo and did my best to enjoy the incredible view right in front of my eyes. After filling my lungs with air again, my friend and I made our way back down the falls, a descent from what seemed like some sort of heaven. As we neared the bottom, the crowds poured in as quickly as the water rushing down the edge of the cliff and we thanked the man in the sky we arrived when we did.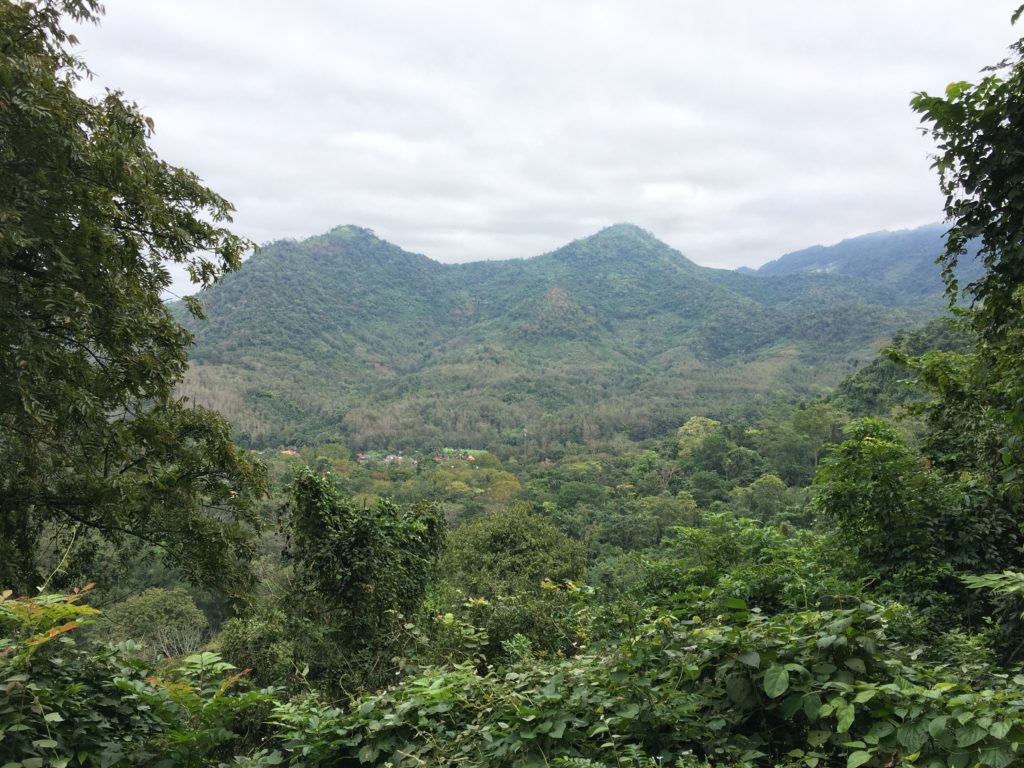 Though I am proud of the fact we decided to go at one of the best times, looking back at the gloriousness of the waterfalls, almost any time would still have been great. If you ever find yourself in Laos, Kuang Si Falls is an absolute dream spot.