If there's one thing Japan is known for, it's giant robot statues. I set off one afternoon to a waterfront neighbourhood called Odaiba in Tokyo to search for one of these glorious behemoths.
Odaiba is something of a futuristic gateway for Tokyo and a representation of the evolution of Japan as a whole. It is actually an artificial island whose historical purpose was to protect Tokyo from a naval attack by Matthew Perry (the naval officer, not Chandler Bing from Friends). The opening up of Japan to the West began here, and thus was a gateway to Japan's future development. In the early nineties, when Japan's economy was riding an unprecedented high, developers built many futuristic buildings here as a showcase for Japan's entry into the new century. When the asset bubble burst, the area became somewhat desolate. Today, with its new buildings and clean, ultra-modern public spaces, Odaiba represents a resurgent Japan, one that is readjusting itself on its journey through the next century.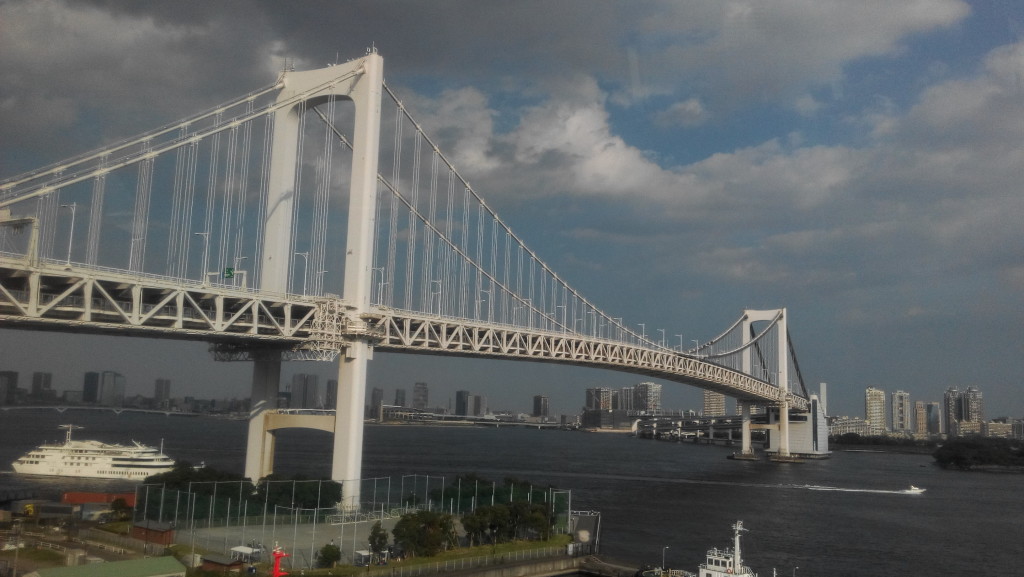 Upon exiting the train station I came across a sign that said Diver City, the location of the giant robot statue. I followed the sign and quickly learned that I'm terrible at following signs. I ended up going in the opposite direction, but luckily for me, any way you turn in Tokyo you're bound to stumble upon scenic gold.
Walking towards the waterfront, I spot a replica of the Statue of Liberty overlooking the bay, a symbol of Japan's formerly wild obsession with American culture. With the magnificent Rainbow Bridge sweeping across a stunning background of patchwork skyscrapers, I nearly felt as if I was plucked out of Tokyo and tossed into the streets of New York City.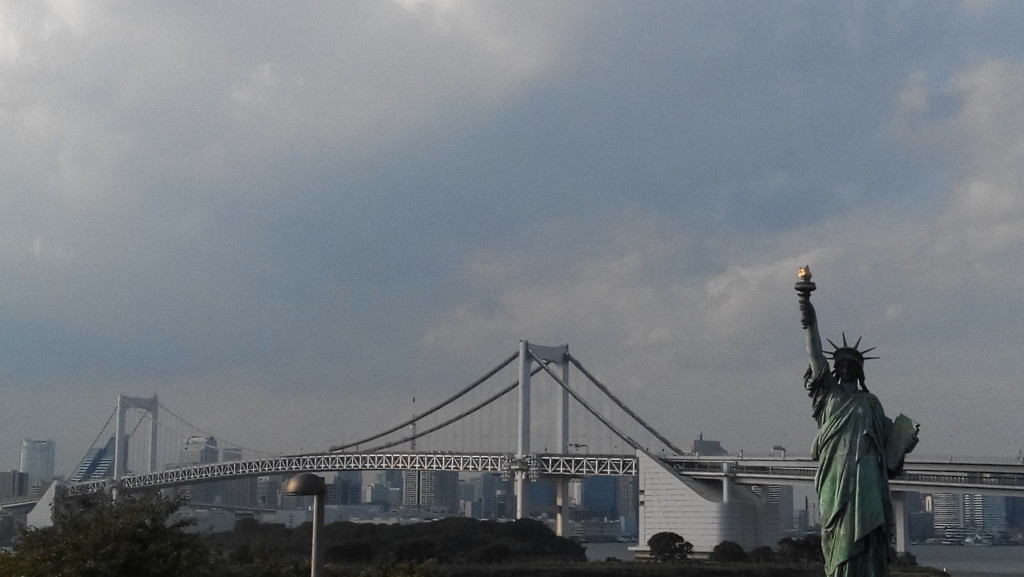 I finished ogling the city and returned to my main quest: finding the giant robot statue. On the walk to the opposite end of Odaiba, I could clearly see the aspect that sets this neighbourhood apart and makes a favourite with both tourists and locals alike: its brutally apparent futuristic architecture. It's obvious that developers and buyers saw Odaiba as representing a new Tokyo, one that not only kept pace with but even outclassed the major economies of the world. Such futuristic structures include the Fuji TV headquarters: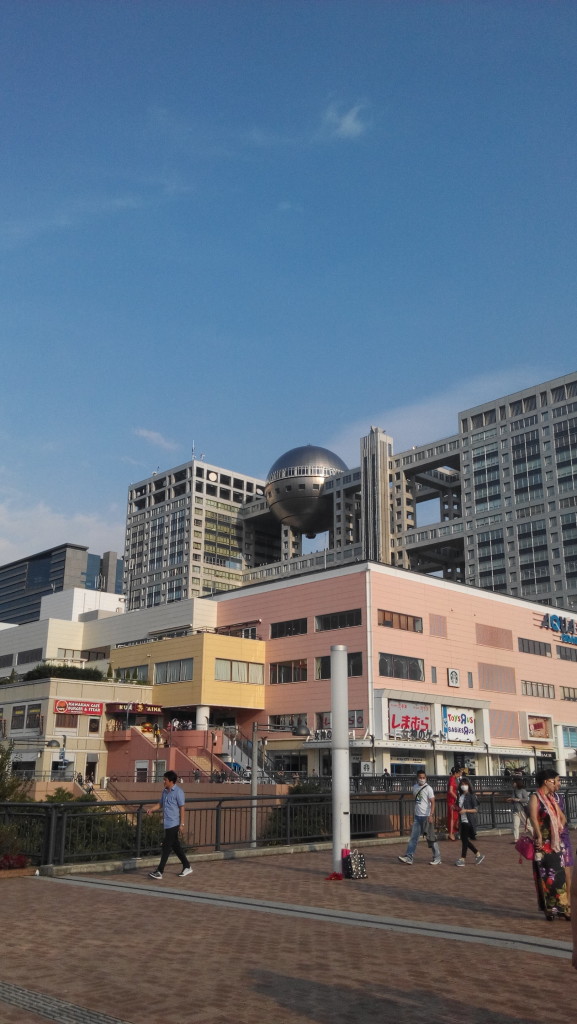 And this giant golden spike thing: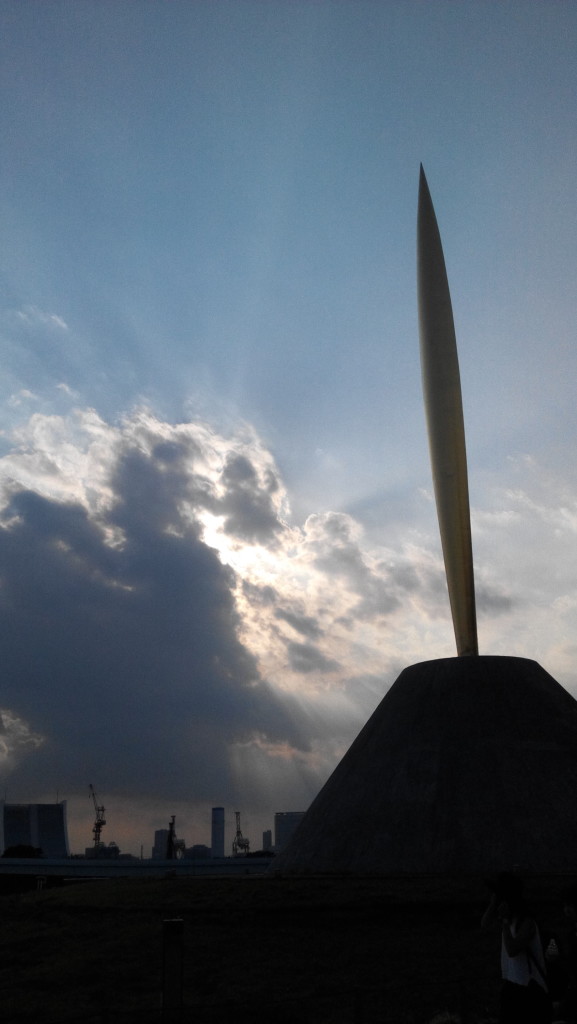 After a brief stroll down a brick road, my quest came to an end. There, towering before me, was a four story tall scale replica of a Gundam fighter, poised to defend the citizens of Tokyo from a sudden Godzilla assault from the ocean. I knew that with a twitch of its toes I could be crushed to pieces, but I managed to snap a few up close photos of this incredible hunk of metal before immediately scurrying off to safety. The robot is part of Odaiba's annual Gundam exhibit, which displays the latest in Gundam models and figurines. I like to think of the Gundam as Tokyo's answer to New York's Statue of Liberty. Personally, if I were an immigrant escaping impoverished conditions in my old country, the first thing I would want to see upon arriving in my new country is a giant fighter robot.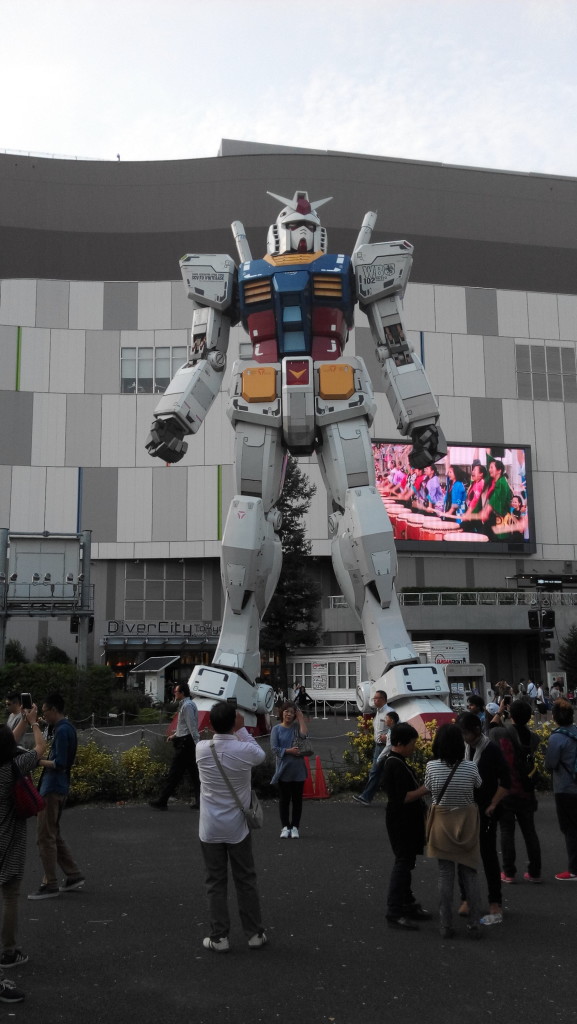 I continued down the brick road and stumbled (I tend to do that a lot when traveling) upon an international food festival. There were hundreds of tents set up and the aroma of a blend of herbs and spices from dozens of countries wafted through the cool autumn air. Many smaller, less frequently acknowledged countries were represented, including not yet recognized ones like Palestine!
Skipping the temptation, I made my way through the crowds and into a small shopping area peculiarly named Palette Town (yes, like Ash's hometown in Pokemon!) I have a feeling the developers gave it this name just so rabid Pokemon fans from all around the world would stop by here for a quick photo op. It's basically free advertising!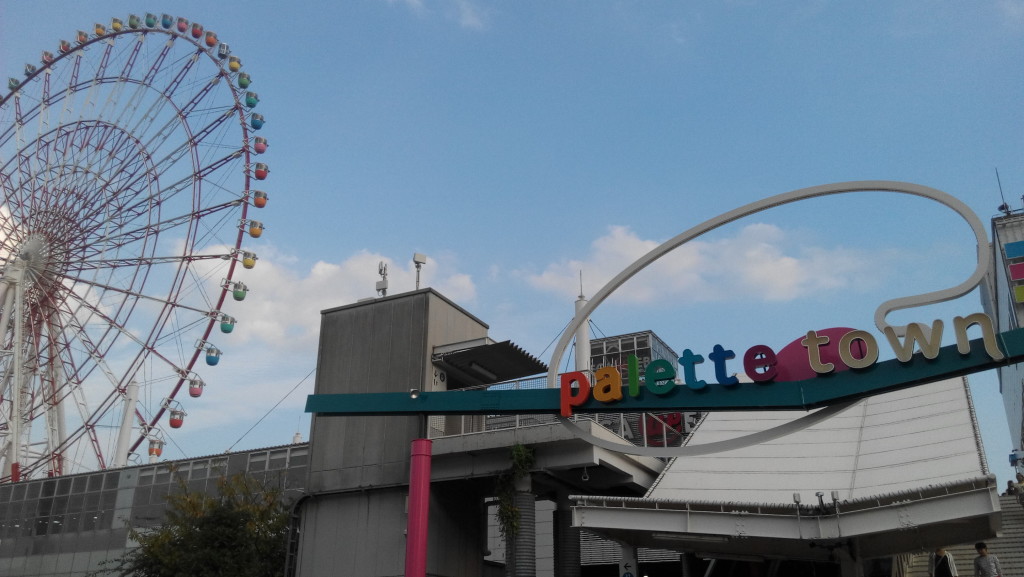 Despite the promise of an epic journey, Palette Town had little to offer unless I wanted to dish out a decent sum of money. There's an arcade and a shopping mall, which are somewhat overpriced compared to other areas of the city. Outside, you can see a giant Ferris wheel that looks fantastic when lit up at night, and a kids' play area with bouncy castles and trampolines in the main courtyard where kids were bouncing themselves silly. I snapped a few more pictures of the Ferris wheel and started my walk back, glad that I visited this part of Tokyo. Odaiba offered me a glimpse into the funky spirit and optimism of Japan, which are two of the characteristics that have attracted people the world over to this once sheltered country.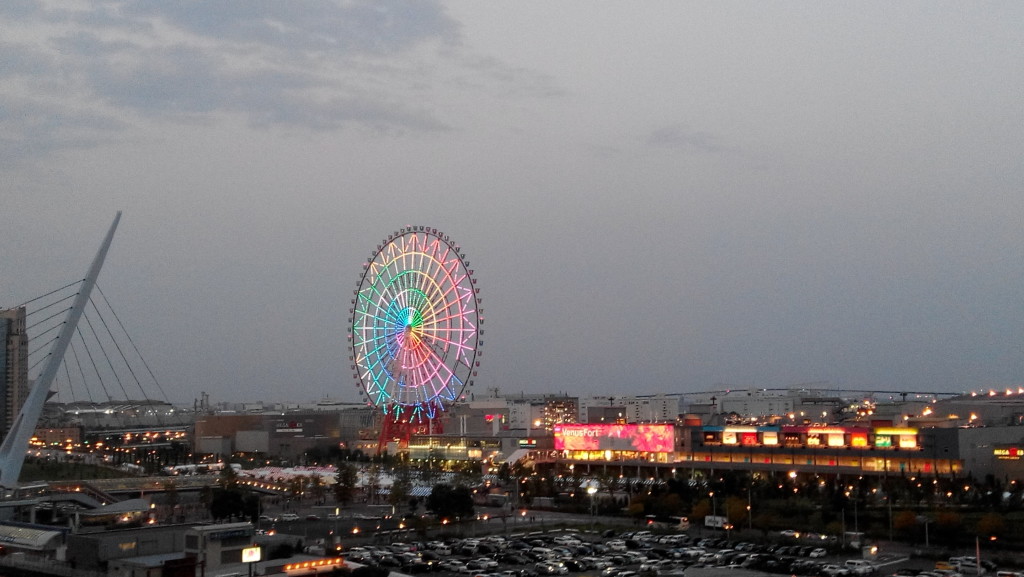 Today was as good a day as any to end with a tall glass of dark German beer. But that's another story.