Pink Dot is an annual event held in Hong Kong to raise awareness and show support for the LGBTQ community in Hong Kong and around the world. It is one of the few places under Chinese control that holds such an event, and over the years has attracted increasingly open-minded segments of the Hong Kong populace. It began in 2011 as a small event modeled after a similar event in Singapore. Now, in 2016, it has become a huge gathering for Hong Kongers from all walks of life, with more and more people taking their families with them to enjoy the food and festivities. What's more, apart from food, drinks, and souvenirs, Pink Dot is a completely free event!
On a scorching hot weekend in September, a few friends and I put on the pinkest clothes we had and made our way out to west Kowloon. Upon arriving at the metro station, we encountered a large crowd of people, most wearing pink, making their way to West Kowloon Park where Pink Dot was being held. We dove in and let the sea of pink sweep us toward our destination.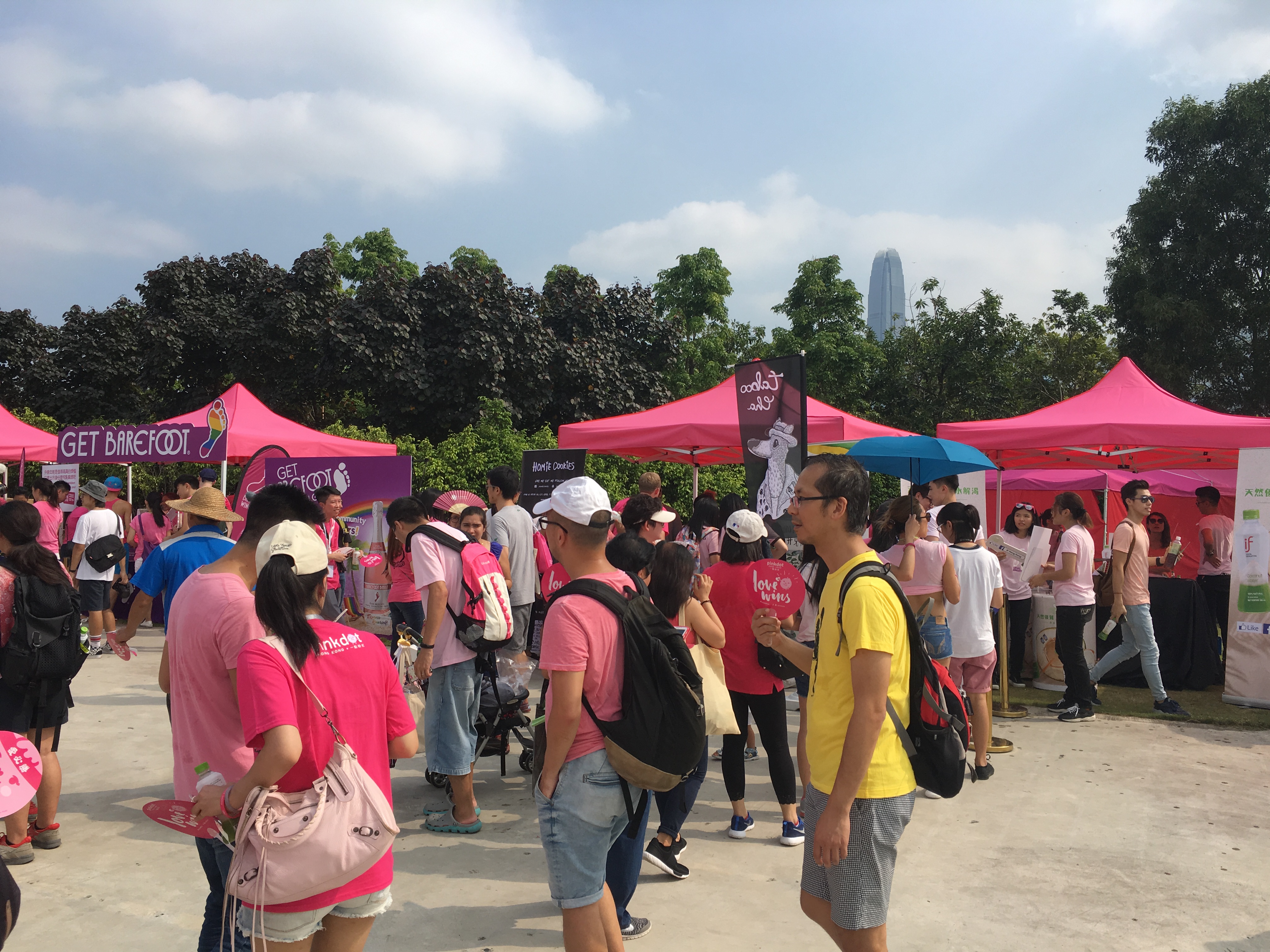 For an event that's only in its 3rd year, there are loads of activities, booths, and corporate sponsors. Friendly volunteers greeted everyone by handing out Pink Dot temporary tattoos, pink wristbands and (possibly to prevent heat stroke) fans. Booths near the entrance gave out free food, coconut water, and alcohol as long as you "liked" their Facebook page (which you could simply "unlike" later).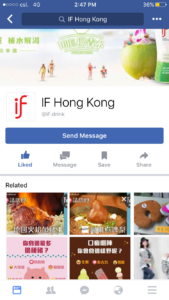 Keeping in the spirit of this being a family event, there were no phallic or otherwise inappropriately shaped foods or toys, which was either refreshing or disappointing depending on your mood that day.
After getting our fill of food and cocktails we made our way to the main park area. There was a music stage, people relaxing on blankets, and the eponymous Pink Dot mascot, who looked extremely adorable up close. Smitten event-goers lined up to get a picture with Pink Dot, who looked just about ready to faint from heat inside that stuffy-looking costume. Despite this, he (she? it?) managed to stay peppy throughout all the photographs and head-patting. Other amusing/questionable things you could take pictures with were inflatable unicorns, an Instagram board, and a flock of plastic flamingos.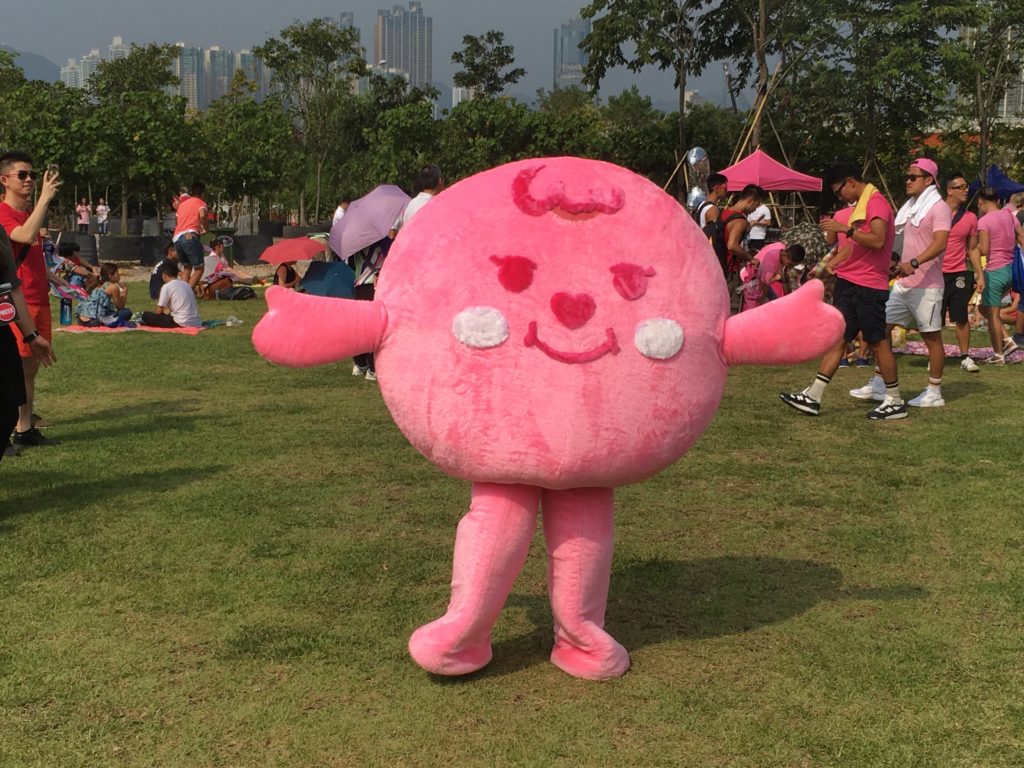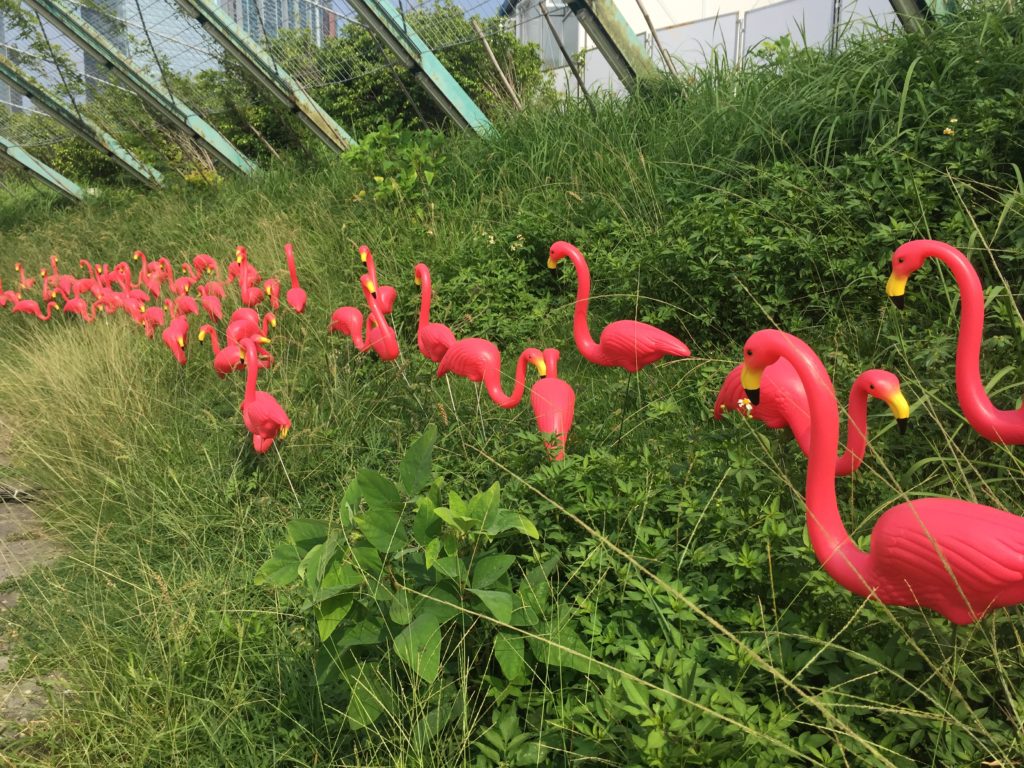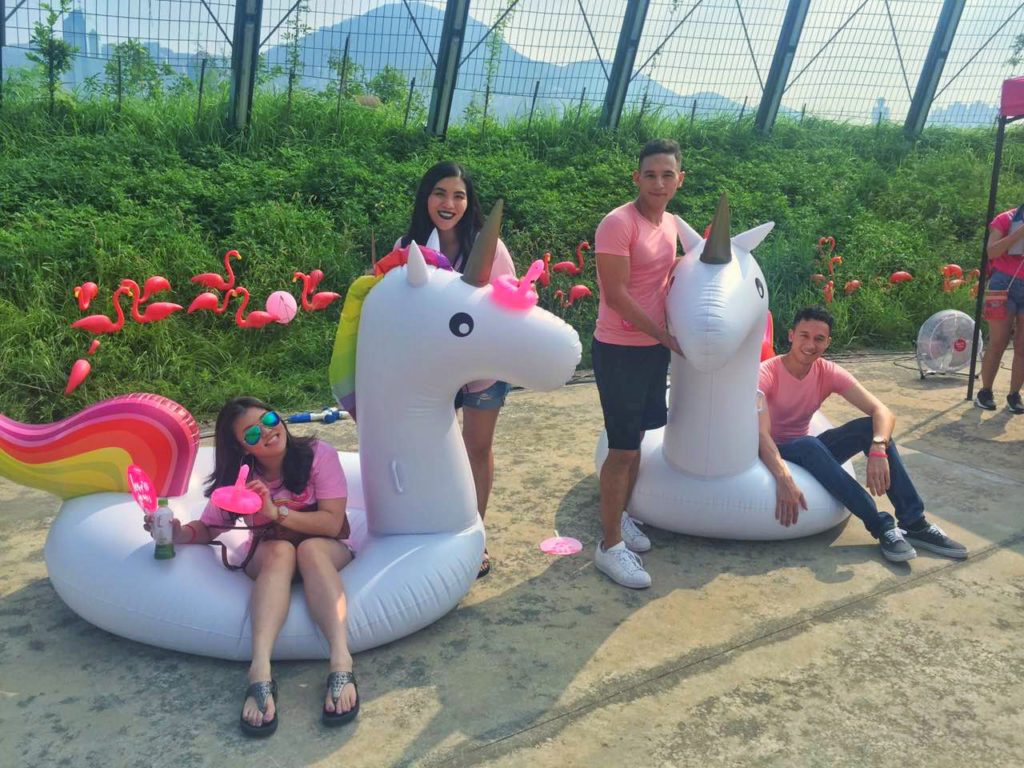 We walked to the last section of the park which contained a varied array of booths, many of them handing out free stuff. We managed to get free bags, a free pair of awesome pink sunglasses, more fans, and much-needed water. There also seemed to be a lot of hand-made crafts you could purchase, and information booths if you ever wanted to learn more about sexually-transmitted diseases and how to prevent them. So not only is Pink Dot fun, it's educational! Parents, good job tricking your kids into going!
And after all that water and vodka, a glorious lineup of pink porta-potties awaits you. The only thing that could have made it more incredible was if the toilet seats looked like rainbows.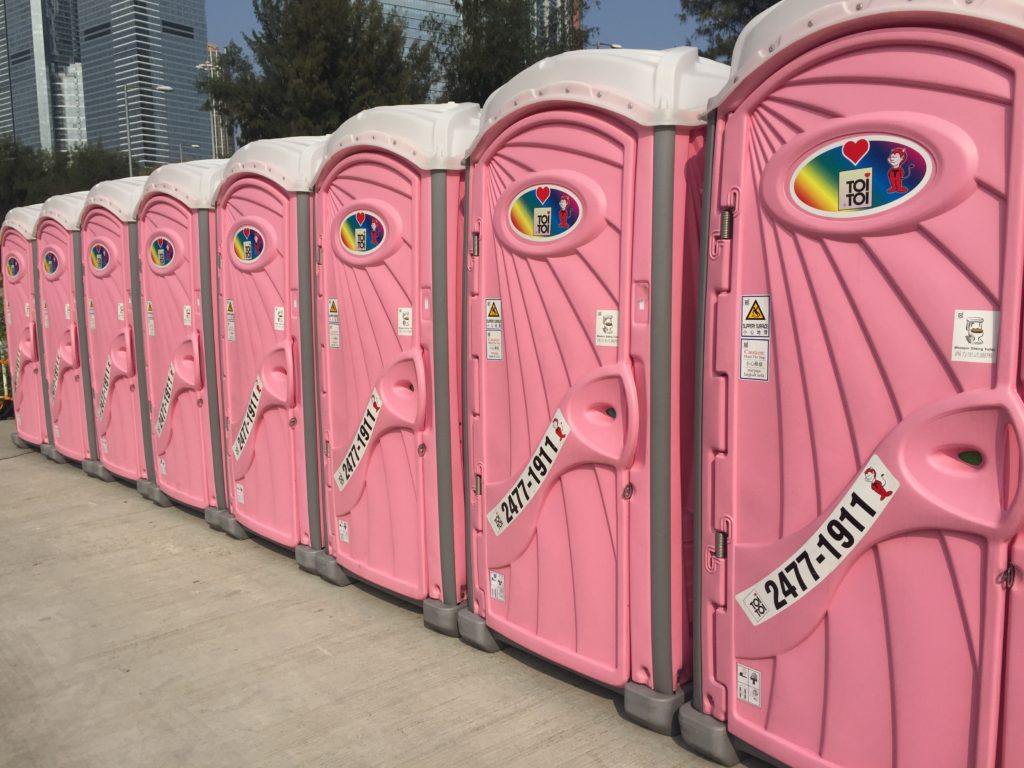 Pink Dot is a one-of-a-kind experience made all the better by the supportive and cheerful people who attend. An emerging openness in Hong Kong society is reflected in the success of the event after such a short period of time. With the increasing grip that China has on Hong Kong, one can only hope that such an event will not just be tolerated, but celebrated in the years to come. And hey, as Chinese society progresses and the young masses take the reins, maybe this won't be such a worry after all.
Who knew pink could be such a powerful colour of change?