As some of you are just now finding out, I have recently quit my job as an English teacher and am currently looking for a new career path.But I absolutely had to take a short vacation before I committed to job hunting.
So I went to Thailand. Specifically, Phuket and Koh Phi Phi.
Phuket is a southern province in Thailand which consists of one big island called Phuket and a large number of smaller islands in the surrounding waters. It is known for its stunning beaches, relaxing atmosphere, and large number of tourists. Luckily, I went during the off-peak season, which lasts from about May to October, and is otherwise known as the rainy season. But alas, the gods were on my side as I actually didn't see too much rain during my time there.
Here's a rundown of what I did there. Feel free to borrow some of my travel tips and activities.
Arrival
I snagged a red-eye flight to Phuket from Guangzhou and needless to say I was exhausted by the time I rolled (almost quite literally) into my hotel room in Phuket for the night (early morning?) There were two bright spots, however:
A gender-separated security checkpoint with cute little cartoon people in the Guangzhou airport…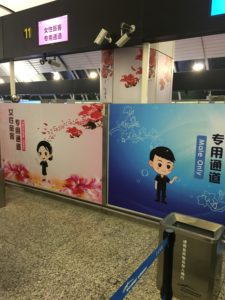 …and the fact that Thailand time is one hour behind China time, which meant an extra hour of sleep for me. Positivity for the win!
Getting to Ko Phi Phi
My next destination was Ko Phi Phi (also known as the Phi Phi Islands), which are administratively part of Krabi Province. I hopped into a van at noon with a group of Irish strangers there on holiday and spent the half-hour trip to the harbour enjoying the sounds of their lilting Irish accents.
We were dropped off at the port and picked up our tickets at a table there. The boat ride to Ko Phi Phi was an excruciating two hours long, and though I usually have no problems with sea-sickness, my exhaustion or hunger got the better of me and I nearly wanted to take the helm and speed to Ko Phi Phi just so I could get off the damn boat without hurling!
I miraculously made it to shore and found out I needed to pay an environmental protection fee of 20 baht per person to enter Ko Phi Phi. The purpose of the fee is to clean up the island, but unfortunately some trash can still be seen on the streets and even on the beaches.
The scenery around the dock, combined with the clear blue skies and green crystalline waters made for some stunning photos. It was late afternoon and the sun hung low in the sky, bathing the mountains and tide with a subtle white glint.
Since it was nearly dinner time, the hunger pangs kicked in and as soon as I dropped off my luggage at the hotel I decided to go out for a night on the town exploring, and more importantly, eating.
Dinnertime
My first stop was a small stand offering "Thai-style" pancakes (almost like crispy crepes). It was stuffed with banana, fried in the yellowest butter I've ever seen, and slathered in Nutella.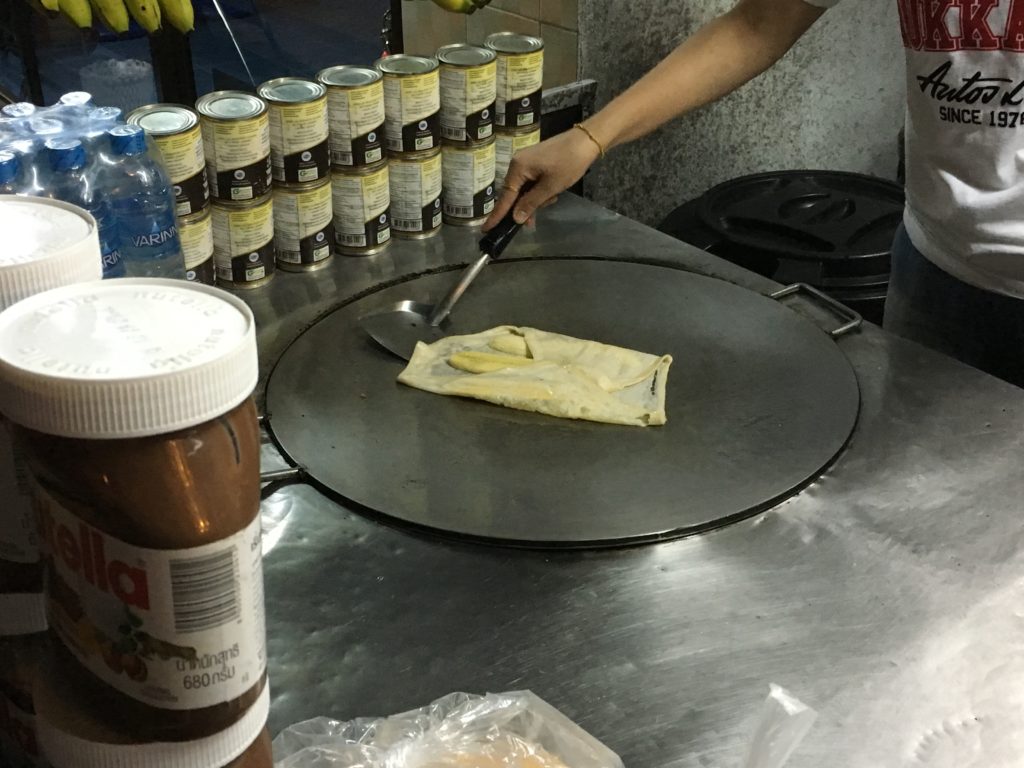 It was a beautiful texture combination: the banana was soft enough to melt in your mouth and the bottom of the crepe was brown and crispy. The Nutella was a lovely bonus. I was satisfied, but I wasn't satiated. Off I went for more.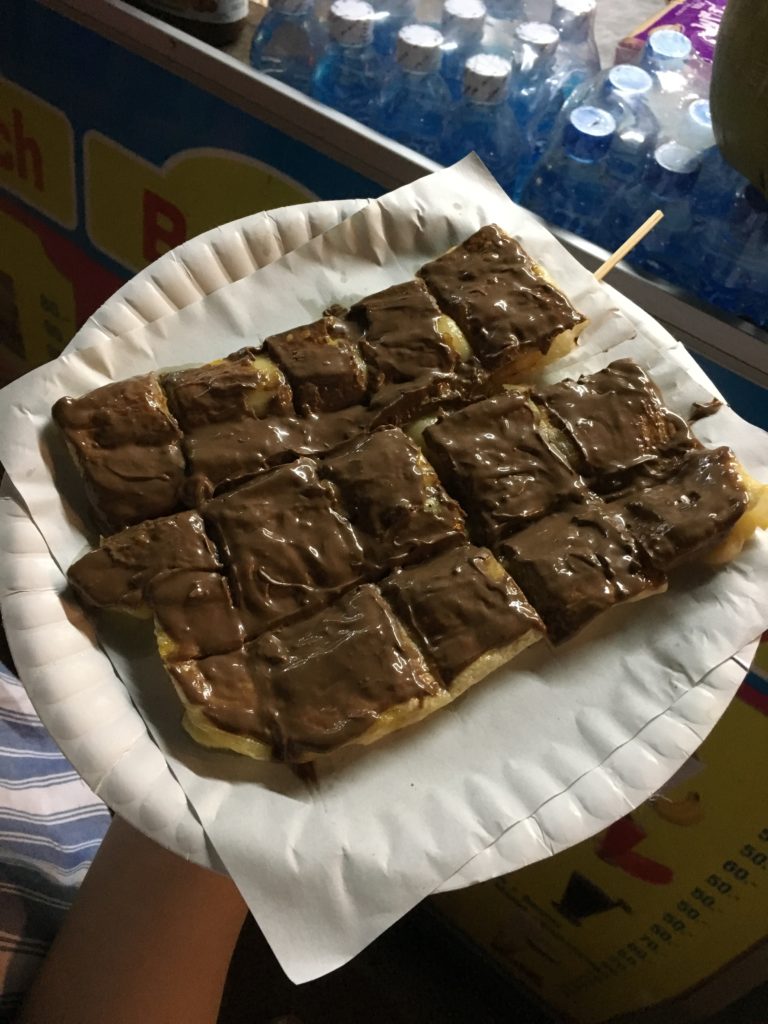 After passing a handful of decent looking Thai restaurants along the stone pathway back to the harbour, my hunger made me stop at the Chaokoh Phi Phi Lodge restaurant. Word of advice: keep walking, it's not worth your time.
I ordered 4 dishes: Massaman shrimp curry, tom yum soup, buttered rice, and the requisite pad Thai noodles. It was probably the most shrimp I'd seen in my life.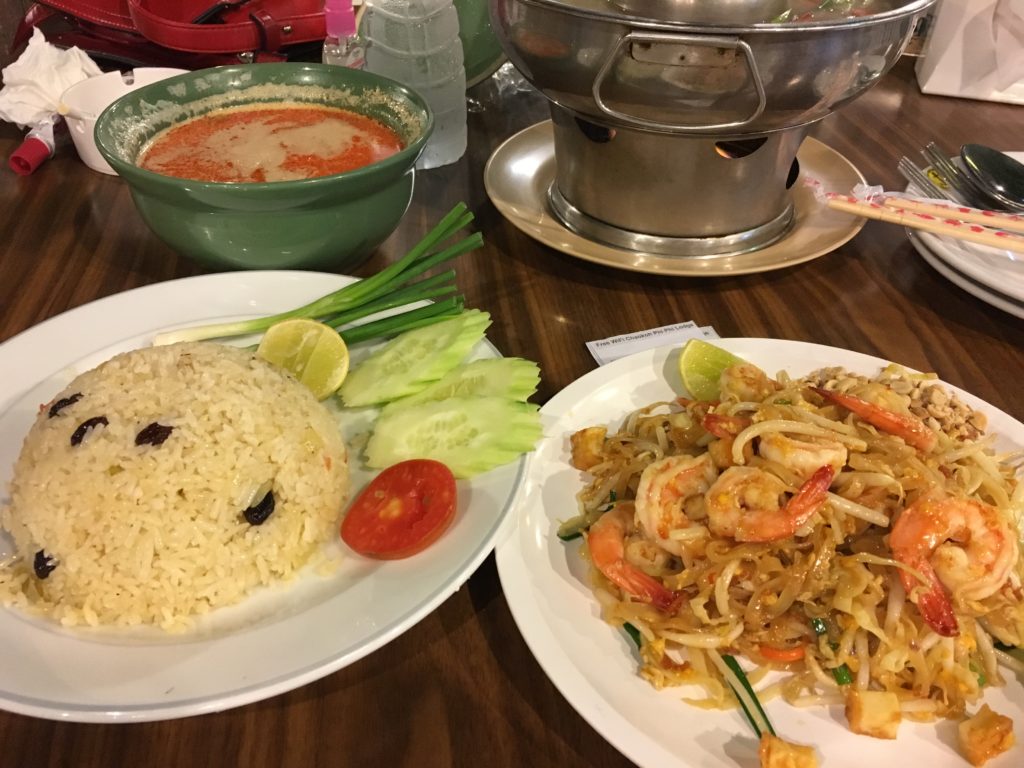 Although the food looked quite decent, I found it to be average at best. My favourite dish was definitely the pad Thai, but the tom yum soup really disappointed. It was too sour, not spicy enough, and not as colourful as the picture suggested. Unlike the banana Nutella pancake, I was satiated, but not satisfied.
Walking the town
Here's a money saving tip: buy beer in convenience stores. They cost less than $2 USD per bottle and bars are way overpriced. I picked up a Chang beer and strolled the streets for a bit.
One thing you will notice about Ko Phi Phi is the sheer amount of cats that roam the island. It's as if every shop and restaurant has its own cat, and they're not at all shy to strangers. Some even get drunk off the local beer.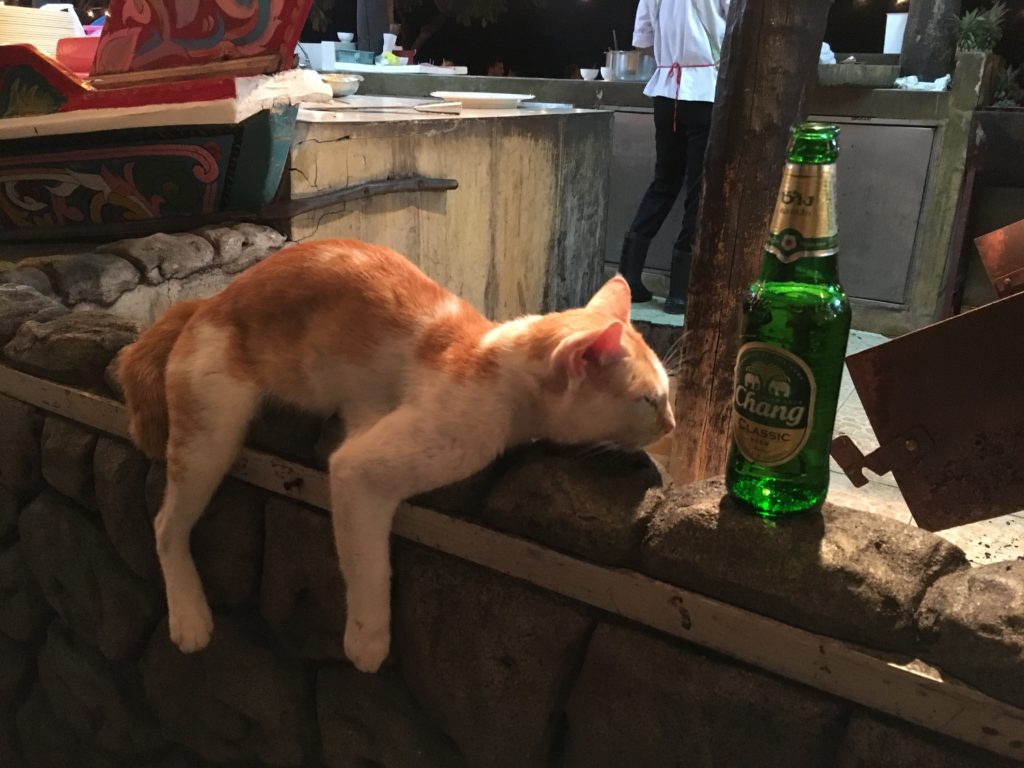 Okay, so I set up that photo. But it looks awesome.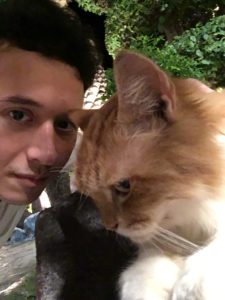 It was a strange feeling strolling the streets and the beaches and discovering just how few people were around for such a normally busy island. I knew it was the off-peak season, but I still expected a significant number of tourists. I guessed that most people were either in bars or back at their resorts by that time so I shrugged and began to head back.
Then I noticed a fire show at a beachside pub and decided to check it out.
There were several performers all doing fire tricks, including a guy with long curly hair who sat four patrons in a row of chairs and lit their cigarettes with a spinning fire circle from hell. I watched for about half an hour and was even invited up to stand completely frozen as one of the performers spun two fireball strings around me, making me nice and toasty and totally feeling like a marshmallow.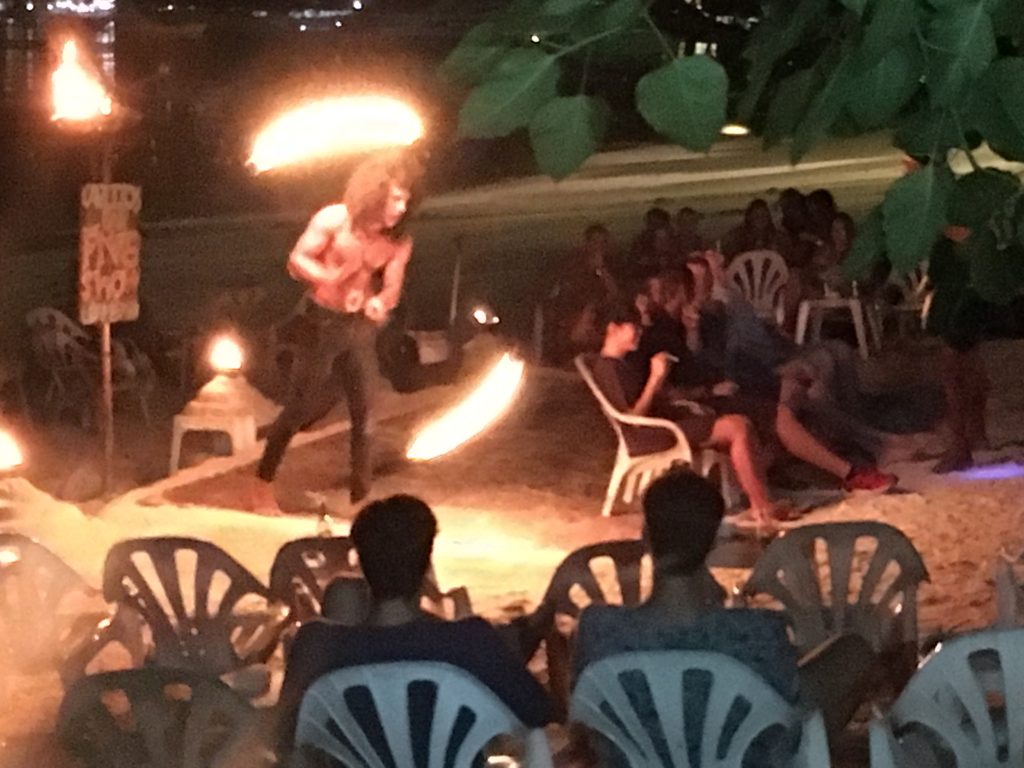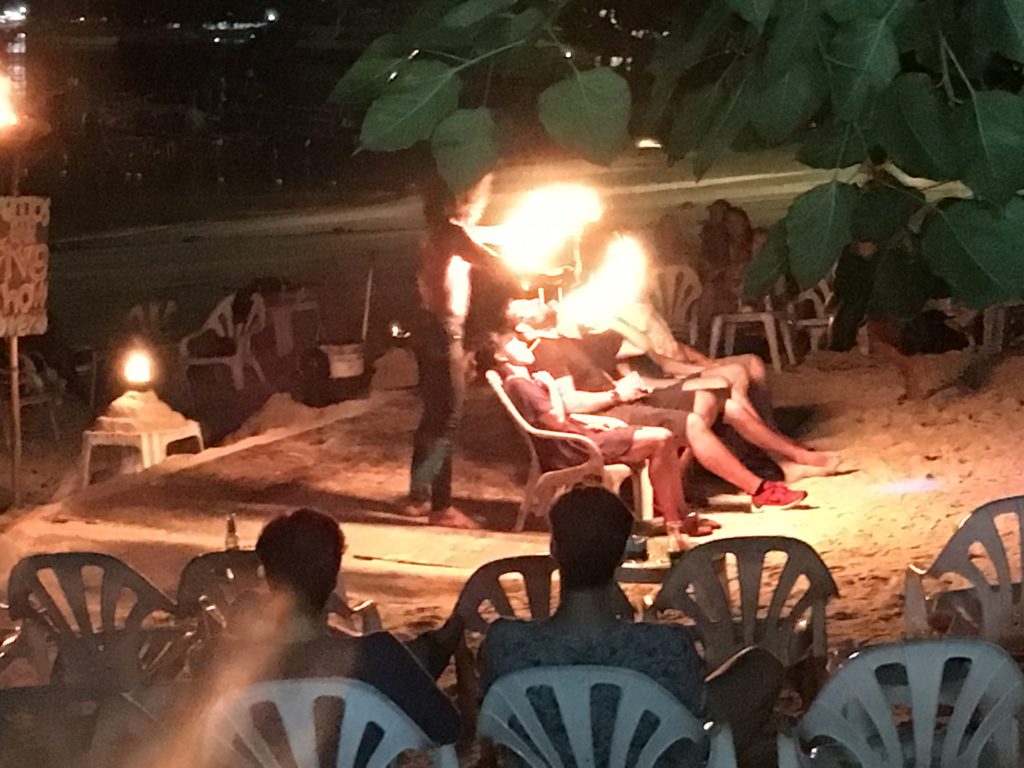 After that I went back home and went to bed, ready for days 2 and 3.
Quick Tips for Koh Phi Phi: Part 1
Everything is going to be more expensive on Ko Phi Phi island.
From food and drinks to household products and souvenirs, it will cost more than on the main island of Phuket. My suggestion is to buy everything you might need in Phuket first, and keep the eating and drinking to a minimum. If you can, eat only the Thai food as other kinds of food will be more expensive.
Exchange your money on Phuket instead of on Ko Phi Phi.
The exchange rate is notoriously terrible on Ko Phi Phi. For example, since I brought some Chinese renminbi with me, I noticed that the exchange rates at some places on Ko Phi Phi were 1 CNY to 4.75 Thai baht, whereas on Phuket it was at least 4.9 baht. That's a fairly significant difference and I was wise to wait until I was back on Phuket island to do more currency swaps.
Ask for a motion sickness pill on the boat ride to Ko Phi Phi.
I wasn't expecting to get sick but it's always a good measure to take one just in case. They give them away for free on the boat, simply ask for one and pop it in your mouth.
Participate in a fire show!
There will be a section of the show when the performers invite volunteers up on stage to be an assistant in one of their acts. Whether it be standing still, sitting in a chair and smoking cigarettes, or actually twirling a fire baton, it's a lot safer than it looks and it's a cool tidbit to add to your travel stories.