I've heard with Koh Phi Phi, you either love it or you think it's overrated. There is no middle ground.
However, I believe I have somehow struck the middle ground with Koh Phi Phi. It could be that I only stayed two and half days, or the novelty of being in Thailand, or just the sheer amount of adorable cats on the island, but I am thoroughly indifferent about it. I can see good things and bad things about it, though if I had the chance to go again, I'd probably pick another place.
Nonetheless, I had an okay time during my next day and a half in Koh Phi Phi and I'm here to give you some tips to enjoy your experience. In case you missed part 1, click here.
Day 2
Lunchtime
My body turned on its biological vacation clock and I slept in till nearly noon. By that time I was well hungry for any food as long as it wasn't the disappointment from the Chaokoh Phi Phi Lodge restaurant the night before.
And I believe I was blessed as I came across an amazing restaurant called Papaya, which sat next to an equally incredible Indian restaurant I believe was called Full Moon.
Papaya has two locations: one solo location with air conditioning indoors that just sells Thai food, and another open-air location around the corner with Indian food from Full Moon in addition to Thai food. I highly recommend anyone travelling to Koh Phi Phi to eat at one of these locations; the food was top quality.
I was beckoned by an Indian man to come into the Papaya location next to Full Moon. He was incredibly friendly and apparently very helpful: he claimed they had just served an entire Chinese tour group about a half hour ago, and he was able to speak to them in Chinese!
Owing to my knowledge of Chinese, I decided to test him out. I asked him in Chinese which dishes he recommended and he pointed them out to me, all in Chinese! Though he had quite a thick accent when pronouncing words, I was able to decipher what he meant and asked him how he learned it. His answer was quite simple: he's a businessman. He also claimed to be able to speak 20-something other languages, though I'm sure he meant reciting items off the menu.
He brought two menus: a Thai one from Papaya and an Indian one from Full Moon. You can order dishes from both because the kitchens are right next to each other and they are owned by the same person.
My travel partner (forgot to mention I'm travelling as a duo) and I ordered a lot: a papaya salad and Penang curry off the Thai menu, and a lamb vindaloo with saffron rice and naan from the Indian menu.
Each dish was extremely satisfying. The papaya salad was crunchy, sweet, tangy and spicy all in one bite and made for a delectable starter. The Penang curry was one of their most popular dishes according to our Indian server friend and I could see why: strips of chicken bathed in a sweet, savoury, spicy curry, somewhere between a thick Indian curry and a thinner Chinese style curry, all combined with various colourful veggies. It paired perfectly with the saffron rice.
The Indian food was equally as good, if not better, than the Thai dishes. The lamb vindaloo was bursting with flavour and the lamb was nice and tender. It was thick and chunky enough to be scooped up by a piece of naan and as that beautiful combo entered my mouth I swear I had reached nirvana. There are fewer things I love more in this world than a chewy baked piece of naan smothered in a really good Indian curry.
The total cost of the meal was about 700 baht. A bit on the pricey side, but well worth it.
Nighttime strolling
After thoroughly stuffing ourselves, we waited about half an hour and made our way to the shores for a quick swim. There was only a mom and her daughter in the water and a few people on the beach, as the weather had taken a turn for the cloudy and most people were indoors or at a bar somewhere.
After the swim, we headed back to dry ourselves off and went out in search of an agency to take us island hopping early the next morning, as we had to catch our boat back to Phuket at 2:30pm.
There are a lot of tour agencies on the island, offering everything from snorkeling and scuba diving to booze cruises. And a lot of them are expensive. The whole island was starting to feel more like one big tourist trap. Trying to find a relatively inexpensive package that sounded interesting and fit our schedule was tough (I had to talk myself out of diving with sharks!) but we eventually settled on a cheap 600 baht per person tour of Maya Bay, some snorkeling spots, and a monkey viewing spot. There was a big downside, however: departure was at 6:30am, and I despise getting up that early in the morning. I am not a morning person in the slightest. Oh well, the price you pay for saving a little money.
After booking the tour we set out to haggle for some souvenirs and again we noticed what seemed to be a Koh Phi Phi speciality: cats, cats everywhere. Cats sitting upright. Cats wearing clothes. Cats on stoops. I made sure to snap a few photos of some unique ones because the internet loves cats, don't they?
My travel partner got a henna tattoo and we did some souvenir-hunting at one of many street-side stalls. We bargained hard: we were able to get some things down to half the original price! One of the tricks is to start walking away: they can get really anxious to make a sale.
With a handful of souvenirs each, we made our way back to our hotel early to try to get some sleep before the 6:30am beach trip in the morning.
Day 3
Maya Bay, snorkeling, and sea sickness
When we got out of bed it was still dark outside. We were afraid of being late so we rushed out to the agency as fast as we could and got there just before 6:30am. To our surprise, no one was there and they had closed up shop! Maybe it was sleepiness, but in that moment I didn't care if we lost 600 baht, I just wanted to go back to bed.
We decided to wait 10 minutes to see if anyone else would show up. Around the eight-minute mark, I hear the sound of flip-flops flapping on cobblestone and a man's voice shouting out loud.
"They're all waiting for you!"
Whoops.
Apparently, we had to arrive there 15 minutes before 6:30am so they could take us to the boat and let us board. I didn't get the memo.
Off we went, running towards the port, and as we arrived I apologized to our fellow travellers who had been waiting so patiently for us night owls. The sun had risen and cast a yellow glint on the craggy green island hills, and the boat jetted off, leaving a crisp ocean mist in its wake.
Now I know I said Koh Phi Phi is overrated (somewhat) but the scenery that morning was spectacular. The sun barely peeking over some of the tallest hills seemed to bring the sea and the sky closer together, and when the blue sky fully revealed itself, it made for some truly stunning photography.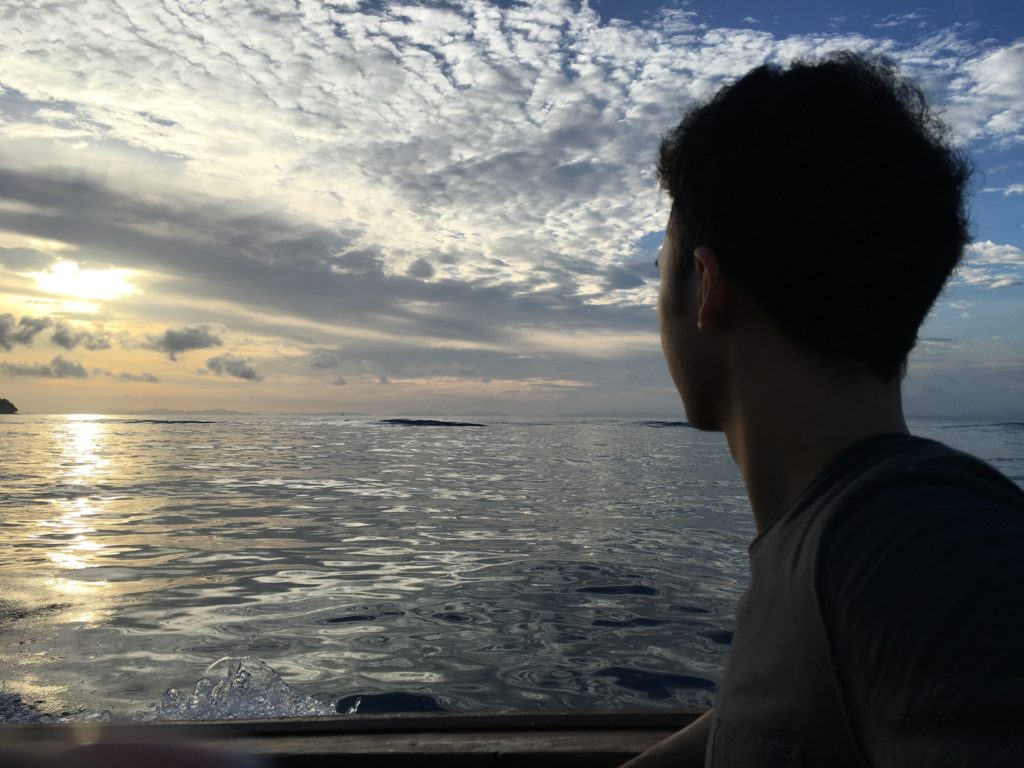 Maya Bay is famous for its ultra-white sand and for being the beach in the Leonardo DiCaprio movie The Beach. The key to enjoying the beach is to get there extremely early to avoid the crowds that move in later. I also found out as we docked that we needed to pay a 400 baht per person fee, because it's technically part of a national park. Go figure.
We had about an hour and half to stroll the beach and see everything. Being a small beach, it only took about half an hour to unhurriedly walk the length of it. After that, I decided to nap on a towel. The thing I liked most about the beach was the feeling of isolation. The inlet is surrounded by rocky hills, which felt almost like a shield from the outside world. As I closed my eyes, the beach was still relatively unpeopled, the white sands and soft waves undisturbed. As I opened my eyes, I noticed boats docking and crowds rolling in, and it was time to leave before the beach became a resort.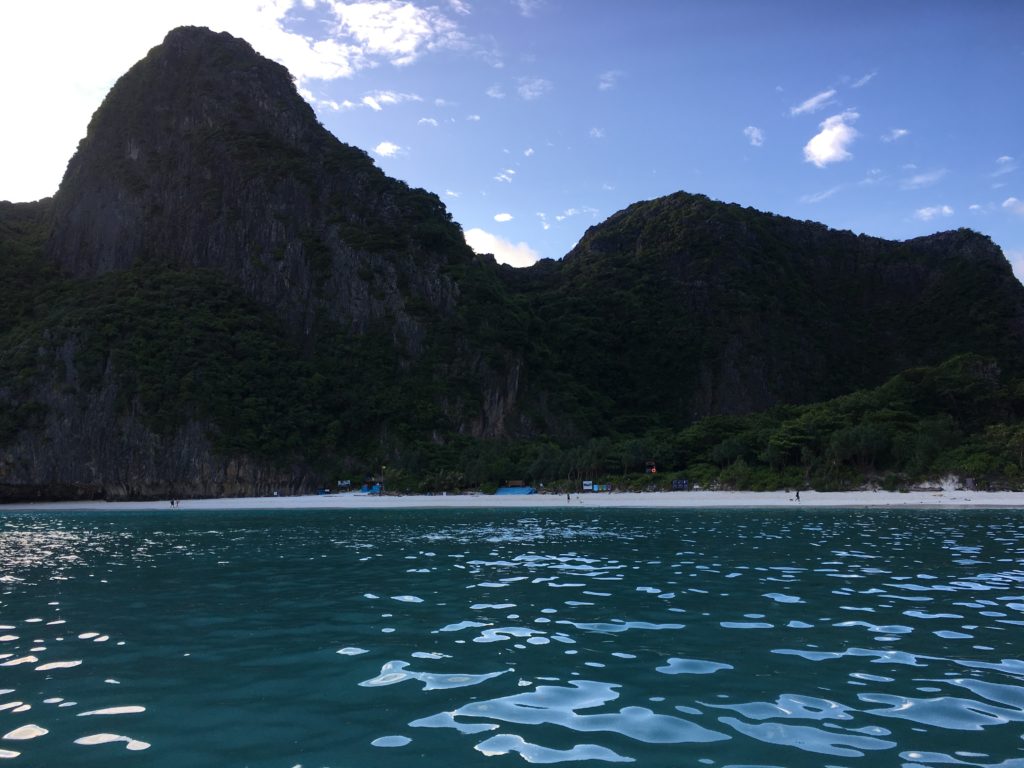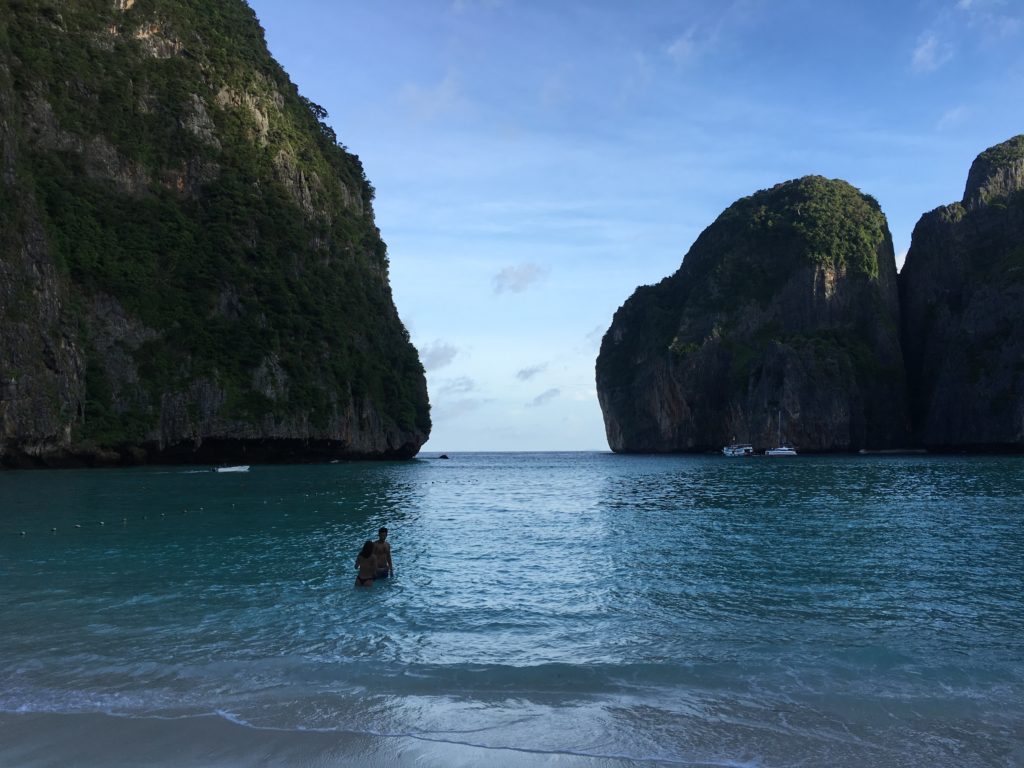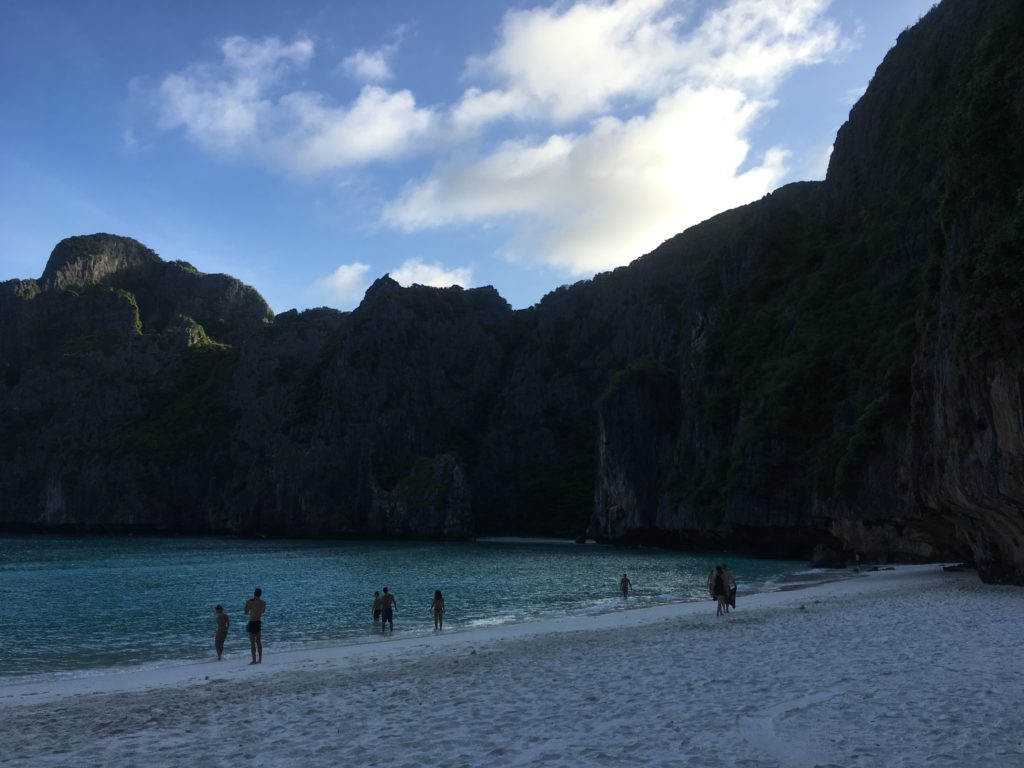 After Maya Bay, our boat sailed to two snorkeling spots. I had been snorkeling in the Philippines before, so it wasn't anything I hadn't experienced. However, I must say the water at the first spot was extremely clear, almost like liquid sapphire. The fish were friendly and it wasn't too deep. The second spot was murkier, shallower, and the fish had a habit of nibbling on my ankles. At this point, my travelling partner was feeling queasy and may have gotten sick near the side of a cliff. I cannot confirm or deny anything.
Before heading back, our boat made one last stop at a cliffside that a group of monkeys calls home. The monkeys seemed completely indifferent to tourists at this point, as I'm sure they see hundreds if not thousands every day. I snapped a few photos and headed back to the boat. Overall, for 600 baht it was a decent tour. If I'm ever back though, I'm definitely swimming with the sharks!
My travelling partner and I made one last stop before taking the ferry back to Phuket. Can you guess where it was?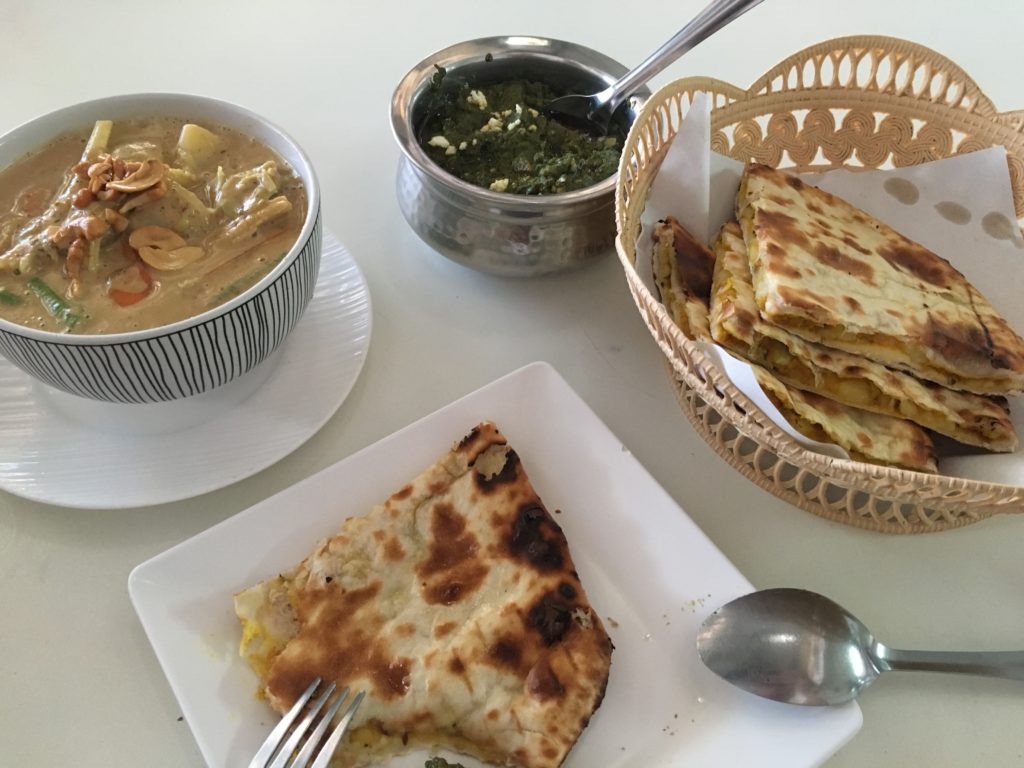 Yep, that's right! We could not get enough of Papaya. It was definitely the highlight of the whole island experience. We got our fill and ambled, stomachs happy, back to the port.
Next stop: Karon Beach, Phuket.
Quick Tips for Koh Phi Phi: Part 2
Eat at Papaya/Full Moon restaurant.
Reasonable prices for a good amount of tasty food. I must note that I eat more than the average person, so you can easily share a lunch for two for around 400-500 baht and be so stuffed you'll question having dinner. The Penang curry and naan were two of my favourite dishes. The lamb curry was good as well.
Haggle with souvenir sellers.
Always remember that the initial price is likely twice as much as you should be paying. Counter with half or less than half, and go up by 20 baht increments. If you think the price has gotten too high for you, begin to walk away. They'll usually pull you back and sell it to you for your last offer.
Go on beach tours or snorkeling trips early in the morning.
I know waking up early sucks, but in order to avoid the rest of the sleepy tourists that make landfall in the late morning or afternoon, it is worth it to get up around dawn and experience the beaches and waters while the tourist numbers remain low.
Put on sunscreen if you go snorkeling.
I learned this the hard way last year snorkeling in the Philippines. I neglected to put sunscreen on my back while I snorkeled for several hours with the sun directly above my pale back. Needless to say, the next day my travelling buddies had some fun peeling me like a banana. Also, it prevents skin cancer. It's all around awesome.